Janya Rock The Maldives And Indulge In Relationship Goals
Jim and Tanya (Janya) have spent the new year in Velassaru, Maldives. Jealous or what?!
We find the gorgeous couple complete #RelationshipGoals but with the dreamy holiday photos – we only wish we were out there with them to enjoy the glorious sunshine.
Tanya has been praised by many fashion and beauty magazines following her 'real image' selfies of her rocking her swimming costumes.
Who needs the photo-shopped body when you can have curvy Tanya on a beautiful beach! You slay girl!
But it wasn't just the viewers who were jealous of all the holiday photos. Even PointlessBlog, who is currently poorly at home, was sad that he was seeing all of his YouTube friends hitting the holidays early in the year – as Marcus Butler was also in Dubai with girlfriend Stefanie Giesinger.
He tweeted: "Why do this to me", when his timeline was filled with everyone's holiday pics!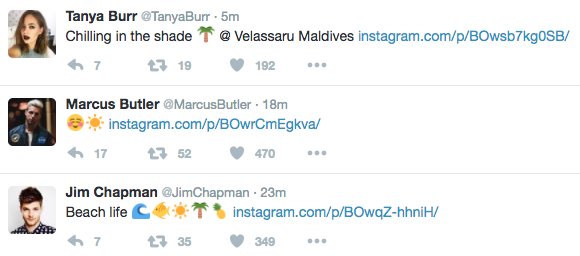 They've been getting up to some crazy things whilst in the Maldives, Tanya was bold enough to touch a stingray and Jim wrestled with a giant sea turtle! Inflatable of course…
You can follow Tanya's Instagram here but be warned all the amazing photos will make you really jealous!
Comments
comments